Israa Suliman | 02-12-2017
It is almost 4 p.m. and the sun appears low and cold. The area feels almost haunted. The streets are dusty and devoid of life. Wires and broken blocks of concrete are scattered around. Only one house is nearby, and apart from a few farmers and construction workers, there is no one else around. The buzz of drones in the sky and the recurrent wheezing of a stone crusher in the distance breaks the silence. As we walk warily into the agricultural lands lying along the eastern border with Israel, we notice a plump man, moving between the bushes.
Mohammed Hillis, 35, is the son of the local farmer, 75-year-old Abed Allah, who lives in the Shujai'yya neighborhood—notorious for the massacre that occurred there during the 2014 Israeli war on Gaza. Abu ("father of") Mohammed owns 50 dunams (12 acres) of land on which he grows turnips, wheat, barley and tomatoes.
"Farming has been my family's main profession and source of income for more than 60 years," Mohammed says as we sit on a sagging bed inside the tent set up at the edge of his land, about 500 meters (a third of a mile) from the Israeli border.
Due to the regular Israeli incursions over the border, farmers such as Abu Mohammed lives lives of uncertainty and fear. (From November 7-20, Israeli forces crossed the border twice to conduct what is euphemistically called "land-levelling and excavation operations.") Every day, when he goes out into his fields, the family wonders: Will it be calm? Or will Israeli warplanes circle over us? Will random gunfire or a tank shell hit Abu Mohammed? Will he be killed, or just injured? Will it hit our network of water pipes? The pipes are so expensive; will he be able to successfully harvest our crops this year and pay our debts? Worse yet, will a new war erupt out of the blue before Abu Mohammed can harvest the crops? Or will the military spray the area near the border with chemicals and kill them? Why do we even have to agonize over these questions when it's our land?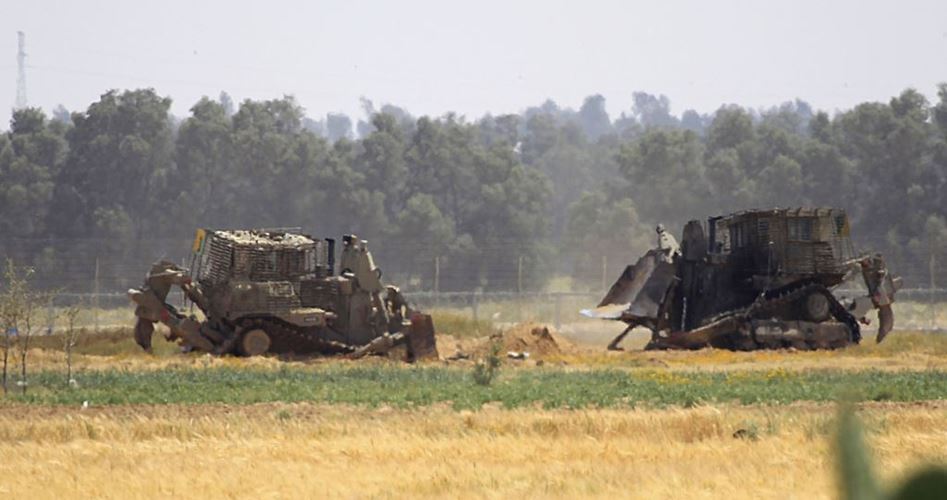 Gazing toward the fence and pointing at the drills and heavy machinery at work along Israel's border with Gaza, Mohammed, who studies law at al-Azhar University, says in a husky voice, "This fence imprisons us. It represents death, for we are doomed to die if we try to walk by it. It also reminds us that we are occupied and that we don't have sovereignty over our own land."
Mohammed recalls some of the incidents when Israeli forces shot unarmed Palestinian farmers and other civilians near his property. In 2006, for example, 27-year-old Mohammed Abu Junba was killed by a tank shell when Israeli troops entered Gaza in retaliation after militants shot toward the border.
"When he looked over the balcony of his home, located near the eastern border, to see what was happening, he was targeted by a tank shell and killed," Mohammed recalls.
Almost every Friday, young Palestinians protest the decades-long blockade of Gaza by throwing stones at the towering border fence, and Israeli forces target them—sometimes leaving them wounded or dead.
"The shooting is unpredictable. The situation may be calm at one moment and suddenly become serious and dangerous, " comments Mohammed. "My little brothers like to spend time on our farm, but I refuse to bring them with me because I am afraid something bad would happen to them. One time, we were shot at while we were in the field, and I remember my heart beating so fast as we rushed for safety."
In the aftermath of the Israeli war on Gaza in 2014, the family sustained a great loss. "We couldn't farm our land since the attack coincided with the harvest season of harvest," Mohammed explains. When the war was done, the family found all of the crops damaged and the water pipes destroyed. "We found deep holes drug into the land by Israeli F-16 missiles," he goes on.
Pointing to a destroyed olive tree, he adds that once or twice a month, Israeli troops enter Gaza, leveling the land near the border. "When they destroy one of our trees, we feel as if we've lost a dear child," Mohammed says sadly. "These trees are like our children. We work hard feeding and taking care of them, and it warms our hearts to see them grow day by day. We are connected to this land and it hurts to lose even a small plant."
Looking again at the drills working along the border to build an underground wall designed to stop smuggling tunnels, he says sarcastically, "they (Israeli forces) claim the wall is being constructed for their security."
Abu Mohammed owns 20 more dunams of land about 200 meters away from the border fence, where he used to grow wheat and barley. However, in 2001, Israel opened the gates of a water dam toward Palestinian lands, flooding and damaging his crops. "So, we grew faqoos (cucumber) instead of wheat and barley," he says defiantly.
Not anymore, however. In recent years, the Israeli military changes the area it considers off-limits to Palestinians; sometimes it's just 100 meters wide, and other times its 300 meters—leaving farmers who wish to work their land nearby in a constant state of uncertainty.
"I don't believe we'll be able to return to our ancestors' lands and villages (in historic Palestine), because we don't have enough power to demand what's ours," he says as he turns to go back home. "But I hope we will at least be able to reach our lands near the buffer zone. It's all we have left."
Posted: December 1, 2017
Mentor: Pam Bailey